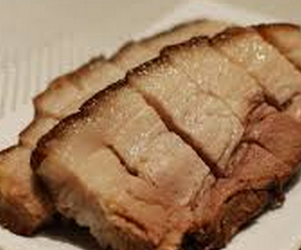 Pork loin is often what's for dinner at my house. It's cheap, versatile, and easy to make. And leftover pork loin has all of the same attributes!
When I buy pork loins at my local store, I usually buy the biggest one I can find. It's super cheap compared to most other meats, and I can usually get several meals from just $20. As soon as I get my pork loin home, it gets chopped into loin chops, roasts, and medallions and repackaged.
When I cook a pork loin, I also usually cook more than I know my family will eat in one sitting. I do this mostly because leftover pork loin is one of my favorite leftovers to repurpose!
If you cook a pork loin, I highly recommend cooking more than you'll actually eat. Leftover pork loin is a great way to create super quick and simple meals on those nights you just don't feel like cooking!
Here are a few of my favorites meals from leftover pork loin…
1. Pulled Pork Sliders
Making pulled pork from leftover pork loin is as simple as reheating the leftover in a crock pot and adding your favorite barbecue sauce. After a few hours, the leftover pork loin should be heated through and tender enough to shred with a couple of forks. Serve on small dinner rolls alongside coleslaw and other fixin's for DIY pulled pork sliders!
2. Philly Pork and Cheese
My all time favorite way to use leftover pork loin! In fact, we just had these for dinner tonight. Yum! Philly pork and cheese is basically just like it sounds. Start by sauteeing some onions, mushrooms, and peppers in butter. Slice your leftover pork loin super thin with a very sharp knife, and add it to the pan with the vegetables until the pork is heated through. Serve on hoagie rolls with mozzarella cheese.
3. Pork Fried Rice
In the mood for some Chinese food? Use your leftover pork loin to make some pork fried rice! Start by sauteeing diced celery, carrots, green onions, and peppers in a sauce pan and add some frozen pees. Add a couple scrambled eggs and cook until just set. Toss in some cold cooked rice, the pork, and soy sauce to taste and you have quick, easy, and cheap Chinese food!
4. Pork Stew
Don't knock it 'til you've tried it! Pork stew is actually really good! You can make a simple pork stew by simply substituting beef or any other meat with leftover pork loin. You may want to add your leftover pork loin during the second half of cooking, though, since it may become too tender and fall apart during the long cooking. If you're making pork stew from scratch, chicken stock or a mixture of chicken and beef broth works well as a base. Use your normal stew vegetables, like carrots and celery, or just use leftover vegetables you have in the fridge. Serve with some crusty bread or rolls and a crisp green salad to round out the meal!
5. Pork Shepherd's Pie
LOVE shepherd's pie, even when it's made with pork! If you've never made a shepherd's pie before, don't worry – it's really easy! Start by shredding your leftover pork loin. and reheat it in a pan with a little water and sauteed onions. I like to stir in some gravy at this point. You can use pork gravy, but I've also used brown gravy, chicken gravy, and even country gravy. Next, spread the pork and gravy mixture in the bottom of a casserole dish and top with frozen or leftover vegetables. Top off your shepherd's pie with a thick layer of mashed potatoes and sprinkle with shredded cheddar cheese. Bake in a 350 degree F oven until the top layers are browned and bubbly.
More Frugal Living Resources: