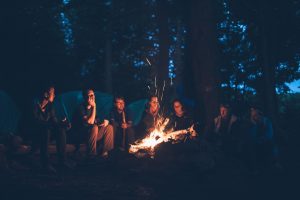 Are you planning any camping trips this summer? Camping is such a fun way to spend your time (it's one of our family's favorite ways to vacation!). For those that are on the fence about scheduling a camping trip, check out these 5 reasons why camping is awesome and get to planning your first camping trip.
Even if you haven't ever camped before, you might just find yourself out camping every weekend this summer!
5 Reasons Camping is Awesome
Many of us know exactly all of the reasons why camping is awesome, but in case you aren't quite sure of it yet, here are 5 reasons camping is awesome:
You Get to Step Away from Technology
There are so many cool things about technology, but the reality is, almost every single one of us could use a break from it sometimes. That's hands-down my favorite thing about camping. It's so nice to step away from technology sometimes! Talk about peace of mind! You may be surprised to learn how nice it really is. 
Camping is Great Exercise
While you don't necessarily notice it, camping provides the opportunity to get great exercise! You are constantly moving, setting up camp, prepping meals, etc. It's a fun way to get healthy. 
Lots of Fresh Air
Is there anything better than good, fresh air? I didn't think so. There is no better way to get some great fresh air than to live in the outdoors for a few days. 
Camping Encourages Imagination and Exploration
If you want your kids to know more than TV and technology, take them camping. I have never seen my kids play or  explore more than when we are camping. My 5 year old absolutely loves it. He becomes a little exploration ranger everytime we are camping. 
Camping Teaches You New (Old Fashioned) Skills
Want to learn how to build a fire? How to cook over an open flame? How to gather supplies? Go camping! Seriously, camping is a great, fun opportunity to learn new things that can come in handy in case of emergency or necessity.