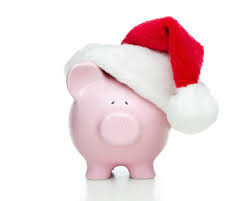 Holiday shopping is an evil, evil trap for us frugal folks. Our frugal nature tells us to SAVE, SAVE, SAVE, but retailers use every trick in the book to get us to SPEND, SPEND, SPEND! Sometimes the spirit of the holiday shopping season can be so overwhelming that it's hard to resist!
Many retailers pull out all the stops to get our hard-earned money. And, they're pros at it! That festive holiday music is bound to get you in the holiday spirit and splurge on just a few extra decorations. That "amazing" markdown you see might not be as fantastic as it seems, especially when you find it somewhere else for less.
But, retailers aren't the only tricky ones. I have a few secret weapons of my own to save on holiday shopping this year!
1. Store Rewards
Yes, I know that store rewards can actually be a sneaky way to get you to spend more, but you can actually save tons of money if you use them correctly. Drug store rewards are my favorite, since I can usually get items for super cheap with coupons and get rewards back. I then turn around and use the rewards to help save money on my holiday shopping by purchasing gifts, stocking stuffers, candy, and gift basket items.
2. Coupons
Coupons can save you tons of money all year long, but they can also help you save big on holiday shopping! Free and dirt cheap items you get with coupons can be used to create homemade gift baskets, for instance. Use high end lotions and bath products for a spa gift basket, for example, or tasty goodies for a candy gift basket. You can also use sweets for stocking stuffers and cosmetics for gifts. Also, make sure you keep your eye out for nice toy coupons as the holidays approach. We usually see some nice Hasbro coupons for popular toys as the holiday shopping days dwindle.
3. Online Shopping
Shopping online is a great way to save on holiday shopping! It's not uncommon to find items cheaper online than you do in stores. This is especially true during the holiday shopping season. Many retailers even offer Black Friday prices throughout the month of November on their websites. And we can't forget Cyber Monday, of course! Holiday shopping is a great time to start keeping an eye out for daily deals on your favorite retailer websites.
4. Apps
I'm still a relatively new smartphone user, but I find them extremely useful when shopping. Not only can I keep track of my shopping list and coupons, but I can also compare prices quickly and easily. For comparing prices, I prefer Smoopa, Amazon Price Check, , and RedLaser. I also love the Walmart Savings Catcher; I just have to scan the barcode on my receipt and I'll get reimbursed if the Savings Catcher finds a lower price at a competitor.
5. Patience
Sometimes the best tip for saving money on holiday shopping is just to be patient. When you see a deal that you want to grab, do your homework first. Check to see if you can find the item for a lower price online or at a different store. If you're unsure of a purchase, wait a day or two and see if you still want it. You might find that you're having second thoughts later, which is better than buyer's remorse!
More Frugal Living Resources: