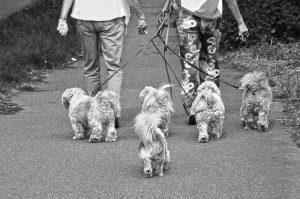 Who needs some more money? I think I just heard a collective "I do, I do."  We could all use some extra cash, am I right? Well, lucky for us there are some sweet side hustles out there right now that can help to get us the cash we need to help pay bills, add to savings, pay for holidays or prepare for Christmas!
Here are 5 side hustles that you can do now that will net you big bucks:
Uber or Lyft

.  If you have a car that fits the description of what these companies allow, you can make some pretty good money as an Uber or Lyft driver.  I actually had my first experience with Uber this weekend and each of the drivers that I had over the weekend talked about how they loved the extra money that they make.

Retail.

 The holidays are coming up, which means lots of seasonal retail jobs will be opening.  I have a relative that did this last year and not only made good money on the side, but she also got an employee discount and was able to bring down the cost of Christmas for her!

Dog walker.  

Do you have any idea how much it costs to pay someone to walk your dog?  In some busy metropolitan areas, dog walkers average $25 per dog, per day or more!  That money starts to add up when you are walking multiple dogs. I recently read that some dog walkers make six figures!

Flipping

.  Next time you head into the thrift shop, keep your eyes out for rock bottom deals and take them home and list them for sale.  Last week I saw a solid oak table at Goodwill for $4.99, a friend bought it and immediately resold it for $100.

Freelance Writing.  

I am a freelance writer for a living, I know that you can make good money doing it. You need to know where to sell your work and you need to be good at what you do.  
Good luck, my friends!