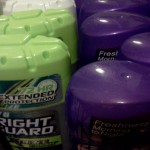 A nicely stocked pantry and bathroom is always nice to have. Having a stockpile means you don't always find yourself running to the store for missing meal ingredients. A nice stockpile can also come in handy during emergencies, like severe weather, when you otherwise wouldn't be able to make a trip to the store.
Building a stockpile on a budget isn't easy. It takes lots of planning, patience, and perseverance, but it's totally doable!
Follow these tips and tricks to build a stockpile on a budget…
1. Start Small
It would be nearly impossible to build a huge stockpile on a budget in a short period of time. Understand that building a stockpile takes time, and you don't have to acquire hundreds of items all at once. Instead, start small with just a few items here and there. Regularly add to your stockpile and watch it grow with time!
2. Set a Budget
It can be a little difficult to figure out how much to spend in order to build a stockpile on a budget. The best way to determine this is your own budget. Figure out how much you can dedicate to each month or week to add items to your stockpile and only spend that amount. Even if you can only spend $10 per week, you can still watch your stockpile grow faster than you might imagine.
3. Stockpile What You Use
White rice is a great item to have in your stockpile; it's versatile, cheap, and doesn't go bad. But, if you and your family don't eat white rice, should you stockpile it? I say no, at least not in huge quantities. Only add items to your stockpile that you and your family like and use. Otherwise, you're just wasting time, space, and money that could be used for more useful stockpile items.
4. Watch for Sales and Coupons
Following sales and clipping coupons are two great tips for those trying to build a stockpile on a budget. Combine these two tips to get the biggest bang for your buck! Follow the weekly sales ads for your local stores and take note of great sales prices on items that you want to add to your stockpile. Clip or print coupons for these items and save even more. You can sometimes get items for dirt cheap or even free when you use coupons on sale items.
5. Stock Up on a Good Deal!
Finally, the best tip I can give anyone looking to build a stockpile on a budget is to stock up when you find a good deal! If a box of pasta is normally $1.29, but you can get it just $.20, don't just buy a few – buy several! (Within reason, of course, since nobody likes a shelf clearer.) Buying stockpile items when they're at their lowest price is a great way to add to your stockpile with a small budget as well as save money in the long run.
What are your favorite tips to build a stockpile on a budget?