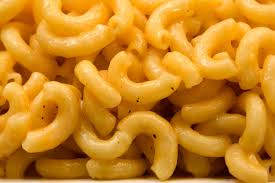 Macaroni and cheese is a super easy and quick side dish to make. And, it's usually a pretty big hit with kids. At less than a dollar a box, macaroni and cheese is also an extremely cheap dish! However, one box of mac and cheese can only go so far…
With a few extra steps and some yummy additions, though, you can easily mae macaroni and cheese a meal!
Meaty Mac and Cheese
You can keep it simple and still make macaroni and cheese a meal! Add some meat or poultry to your macaroni and cheese to make a super cheap and easy meal. You can use just about anything from browned beef to chicken to leftover steak. Ham also make a nice addition to make macaroni and cheese a meal.
Taco Macaroni and Cheese
Tacos are a favorite in my house and so is macaroni and cheese. So, it just makes sense to combine the two to make macaroni and cheese a meal! Just add some seasoned taco meat to macaroni and cheese and top with taco toppings, like shredded lettuce, diced tomatoes, olives, salsa, and sour cream. Crushed tortilla chips or Doritos add a nice touch too.
Macaroni and Cheese Pizza
Need a new twist on a couple of old favorites. Bake a refrigerated pizza crust according to the directions (or use a prepared crust) and spread macaroni and cheese on it. Add any other pizza topping you like, including extra cheese, and bake until the cheese is bubbly and just starting to turn brown.
Mac and Cheese Soup
This is perfect for a cold day when you need a hearty soup! Make your macaroni and cheese as you normally would, then add it to some prepared cheese soup. You can also add some chicken or ham, as well as veggies like broccoli.
Tuna Macaroni and Cheese Casserole
I know that tuna noodle casserole isn't exactly a huge favorite in a lot of households, but a macaroni and cheese version might change a few minds! Add canned tuna, peas, mushrooms, and extra cheese to your macaroni and cheese for a super simple alternative to tuna noodle casserole. Be sure to use lots of extra cheese or a can of cheddar cheese soup to help this dish break out of the tuna casserole mold!
As you can see, it's really not all that difficult to make macaroni and cheese a meal! You just need a little imagination and few extra ingredients. If you're trying to make macaroni and cheese a meal, you can use boxed mac and cheese, but you can also use homemade mac and cheese. These macaroni and cheese meal ideas would be perfect for using up leftover mac and cheese too!
Be sure to leave us your own ideas to make macaroni and cheese a meal!