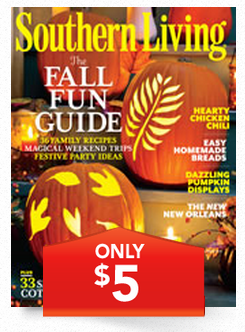 You don't have to be a southerner to enjoy Southern Living magazine. It's full of great tips for and articles about entertaining, decorating, home improvement, and cooking. It also has some great recipes in it.
Now you can get a 1-year subscription to Southern Living magazine for only $5 and save 92$ off the cover price. Just enter the coupon code SLJUST5. It would make the perfect gift for yourself or someone else this holiday season. It does come with an auto-renewal service, but you can cancel this at any time.
Check out more hot magazine deals (Use the code 5OFF at checkout), and find out how you can get two All You magazine subscriptions for the price of one.