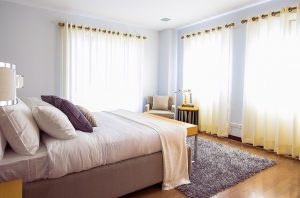 Do you find yourself buried in non-stop clutter in your house? Â Between our busy schedules and precocious children, it is hard to keep a house clean. Â Clutter is just inevitable, right?
Well, there are some tricks that you can do that will help you keep the clutter monster at bay. Â If you are anxious to learn some of those tricks, here are 5 tips for beating the clutter taking over your home that you can start practicing right now.
The 1 Item Rule.

 Here it is: Never go into a room without picking up at least 1 item to put away or throw away.  If you find yourself doing this each time you walk into a room, you will develop a habit which will help you to keep your home and the rooms within it tidy and clutter free.  It doesn't have to be big items either.  If there is an errant hair tie laying on the table, pick it up (can you tell I have a teenage daughter?), or a small piece of paper, etc.

Put stuff away.

 Seems easy enough, right?  The problem is that many of us will have stuff out and think we will be putting it away later on, but oftentimes we don't. We let stuff sit out until it makes us crazy.  This is another thing that becomes easier after time once you develop a routine and a habit.

Buy less stuff

.  Many of us shop for fun or because we find good deals.  But do you really need all of the items you have found to buy?  My guess would be no.  Next time you are shopping, think about whether or not you actually need the item and you won't have to try and figure out where to store it.

The no Knick Knack Rule

. Â Make it a rule in your home to never have Knick Knacks in your home. Â Knick Knacks will make your home feel more cluttered and frankly, they are a pain in the butt to keep dusted and clean. Â You are better off without them.

Give the kids chores

. Â If your children have the responsibility of chores they are more likely to clean up after themselves throughout the day. Â This in itself will keep the clutter at bay.