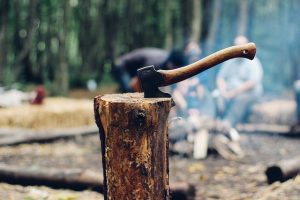 Are you planning a camping trip this spring or summer?  Are you stressed about what it will do to your budget? I know that camping is supposed to be the cheap way of vacationing, but it can be a strain on your budget if you don't do it the right way.  If you are a camping newbie, or if it's been a while I've got these 5 tips for making your camping trip cheaper that you are going to want to follow up on:
Borrow.  If you don't have camping equipment, don't be afraid to ask friends or family to borrow theirs.  This is especially true if you don't have any other camping trips scheduled in the future, if it is going to be a one-time thing then just borrow for the trip.

Shop sales, clearance and second hand.  You don't have to spend hundreds of dollars on a tent.  Hit up the sales and clearance racks, or even check out a thrift shop or online marketplaces such as FB marketplace, OfferUp, etc to find deals on camping gear.

Plan your meals in advance.  Camping food can be cheap, but it can also cost a lot of money, so the key here is to plan in advance so that you don't make a last minute run for expensive snack food.  Pack up sandwiches, burritos, or other easy to pack foods so that you are set and ready to go.

Bring firewood with you.  Bring firewood with you in order to save money, so you aren't having to buy firewood that is sold at the campground.  I know it's not always easy to pack wood in your vehicle, but you may find that you will save big! Even more that you may expect.

Use old pots and pans.  You do not need to buy fancy cookware for your fire.  Just use your old pots and pans for it, or hit up the second hand store and buy some old pots and pans that you use specifically for camping.
Do you like to go camping?  How do you keep it under budget?