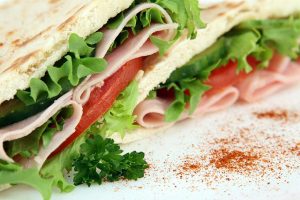 Whether we realize it or not, lunch is a very expensive part of our family's food bill.  Whether we are talking about kids' lunches or yours, they can start to add up very quickly in terms of food costs.  Lucky for us, there are some really simple ways that we can save money on our lunch costs and still be eating well.  
Follow these 5 tips for saving on lunches and see how far you can cut down on your food bill.
Pack leftovers

.  Make enough food in your family's dinner to pack some for lunches tomorrow.  Get some good quality food storage containers and an insulated lunch bag to keep it cold throughout the morning and you are all set.  A delicious, home cooked meal is almost always a hit for lunch anyway so it works great.

Meal prep

.  On Sunday before the week begins, be sure and take an hour or so to pack all of your lunches for the week.  This way there is no questioning whats for lunch or taking time during your busy week to prepare lunch for you and/or the kids because it will have already been done.

Make a list.

 It's important to have good foods on hand at home in order to prepare lunches that you will like.  If you don't like PB&J sandwiches, but that's all you have at home, you are more likely to say forget it and go out to eat.

Skip the drive thru

.  Make sure that you are focused on not going through the drive thru at lunchtime.  It is so easy to say "I don't have the time" to cook, but in reality, you don't have the money to waste or the health benefits of avoiding fast food.

Pack high fiber, high protein foods

.  If you are able to stay full longer, you will be far more likely to snack throughout the day, which can get expensive.  Be sure that the food that you bring for your lunch is packed full of fiber and protein to keep you full and energized.