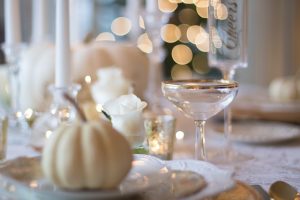 Thanksgiving is just around the corner, my friends!  If you haven't already, it is probably time to start shopping for your Thanksgiving dinner prep.  What?! Shopping now for Thanksgiving? Yep, I said it. Don't shoot the messenger folks, it needed to be said.
So, once you are ready to jump into Thanksgiving prep, here are 5 tips for saving on Thanksgiving Dinner:
Shop early.

 I know I already mentioned this, this is why I am writing this.  Shopping early will help you to save money on your Thanksgiving shopping list.  This is especially true because stores often offer a different sale price each week for holiday staples.  Take advantage of these deals, my friends!

Use coupons.

 Coupon, coupon, coupon!  There is a reason that you visit our site often, COUPONS!!! Coupons are always a great way to save money on groceries, Thanksgiving is no exception.

Accept offers of help.

 If someone offers to bring a side dish or dessert, accept those offers!!! No reason for you to spend all of the money and time!  Don't be afraid to loosen up your control of the meal planning. The more cooks the merrier.

Stick with the basics.

 Mashed potatoes, turkey, rolls.  The main staples of Thanksgiving are actually quite inexpensive.  No need to make lots of detailed, involved recipes to keep your guests happy.

Skip the holiday decor.

 There is no reason to get your house decorated for the specific holiday.  Just clean up, light a couple of candles and let the meal do the decorating!  There is no need to spend a bunch of money to decorate for just a couple of hours.  Even if you use dollar store decor, it adds up!
How do you keep from breaking the bank during the holidays?  I would love to hear any other ideas and points of view!