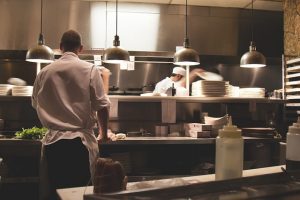 We have been talking a lot about different ways to save money, and those tip lists almost always say to stop eating out. Let's get real here though, sometimes you want to splurge and eat out, sometimes your oven stops working, sometimes you simply don't want to cook. And sometimes, you have been on the road for hours and cooking at home means you won't be eating until 10pm (sports parents, I'm talking to you).
If you fit into the above list, this list of 5 Tips that Will Help You Save Money While Eating Out is for you:
Coupons. Check in your Sunday paper for coupons for local fast food joints. I often see Carl's Jr. Coupons in my paper, many of them being BOGO deals, etc. This is a great way to save on your costs.

Value Menu. The value menu is great for those times that you swing through the drive-through last minute. Be careful not to fall into the trap of driving through and eating from the value menu all the time, it is not cost-saving to eat there all the time.

Download the app. Many restaurants such as McDonald's has an app that gives you discounts for using it.

Sign up for rewards programs. Many restaurants offer a reward program. My family, for instance, always enjoys Red Robin when we go out to eat and we are a member of their rewards program. We get a free birthday burger, plus every 10th burger is free. Because there are 5 of us, that means that every other visit we get a free burger. We don't go out to eat often, but the restaurant rewards program helps us save when we do.

Kids eat free nights. When you take the family out to eat, be sure to go to a restaurant that offers kids eat free (or cheap) nights. Oftentimes it is 2 kids per 1 adult meal. This is a great way to save!