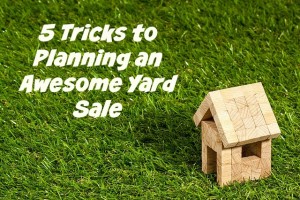 End of Summer yard sales are always my favorite. People are out and about and longing for the days to stretch out a little longer before heading back to the shuffle of Fall schedules, so browsing through yard sales is a great way to spend the time.
I know a lot of people also do some of their school shopping at yard sales in hopes of finding good clothes on a budget.  I know I have done it and yes, I found some AMAZING deals!  (Miss Me jeans for $5? Yes, please!)
Find the Right Location
Are you on a busy street?  Are you near a high traffic part of town?  That is the type of location that you want to be in.   Many people don't want to drive way out of their way to go to a yard sale since there are no guarantees.  If this doesn't sound like your location, see if you have family that wouldn't mind if you set up your sale at their location.
Make it a Team Effort
Block and multi family sales are everyone's favorites.  Get your friends, families and neighbors on board with you and have the busiest yard sale in town!  Yard sale shoppers love the idea that there are multiples families to shop from since that increases the chances of a great find!
Bold Advertising
If you don't advertise, no one will even know you are having a sale.  Make sure you advertise and advertise well.  Create big, bold signs and put your yard sale ad online on such sites as Facebook and Craigslist.  Also, don't discount your local newspaper.  There are still some people who check the paper for yard sales and some papers let you place a free yard sale ad.
Organize
Be sure that your stuff is organized as well as possible.  Most people, myself included, will simply drive right by when there are piles of stuff just laying around someone's yard.
Price Accordingly and Clearly
Yes, you want to make as much money as possible, but don't be greedy. Yard sales are great for sellers so that they can get rid of clutter and bring in a little bit of money.  They are great for shoppers to be able to find great deals and things that they need. People don't shop yard sales to pay top dollar, make sure you price your items according to their worth and not what they sell for new.  Also, be sure to clearly mark how much the item is.