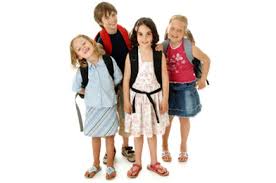 Any savvy shopper and parent knows that there are a few great ways to save money on school clothes. Taking advantage of back to school sales, for instance, can usually save you at least a little money. You can also use coupons to save even more, especially when you stack them with sale prices. Even shopping clearance racks is a great way to save money on school clothes, especially if you can find some great basics that can be worn all year!
But, what if you need to ave money on school clothes, even though you're already doing all of these things?!
Never fear! There's more than one way to skin a cat, as they say. Well in this case, there's more than a few ways to save money on school clothes this year. These aren't your average money saving tips, and they could come in pretty handy if you're on a super tight budget this school year!
1. Don't Buy School Clothes – Swap Them
Clothing swaps can be a fantastic way to save money on school clothes and clothes in general. Organize a clothing swap with local parents who have children about the same age or size as your own kids. Have each parent bring some clothes that are still in good condition and can be reused for the upcoming school year. Granted, you won't be able to get an entire school outfit this way, but it can certainly help cut costs!
2. Go Thrifting
I'm not ashamed to admit that I pick up some school clothes for my kids from time to time at the local thrift stores. It can really help save money on school clothes, especially jeans, which I am admittedly a little freakish about! Look for items in very good shape and items that still have the tags on them. Again, you don't have to furnish an entire back to school wardrobe from the thrift store, but picking up some of the more expensive essentials (like jeans!) by thrifting can really save you a lot of dough!
3. Buy Discount Gift Cards
You can save money on school clothes by using discount gift cards too. You can find them at some retailers, like BJ's and Staples, as well as online as specialty gift card websites, like Gift Card Granny and Cardpool. You may not save a ton this way, usually from 5% to 20%, but every little bit of savings counts!
4. Use a Credit Card
Now, I'm not one to normally advocate whipping out the plastic, but there are a few times when I can make an exception. You can save money on school clothes by using a credit card a few of different ways. First, only use a credit card to buy school clothes if you know that you can pay it off quickly, otherwise you're just racking up more debt for yourself. You can also save a bit if you have a great rewards credit card. And, many credit cards offer additional promos throughout the year, such as $20 back when you spend $100 at XYZ store. Coupons.com also has similar offers, called Card Linked Offers. Finally, if you're considering opening a store card anyway, back-to-school time may be the perfect time to do so. Cardholders typically receive additional discounts and coupons, especially when first opening an account. Just be sure to pay off the balance as soon as possible, so you don't end up paying high interest charges.
5. Buy Later in the Season
It's true that you can save money on school clothes during back-to-school clothes, but the savings are usually minimal compared to the sales later in the fall. By this time, retailers are looking to get rid of back-to-school items and make room for holiday merchandise. If you can get together a few outfits for the kids to wear during the first few weeks of school, you can often score some big savings later.
Know any other great uncommon ways to save money on school clothes? Let us know in the comments below!