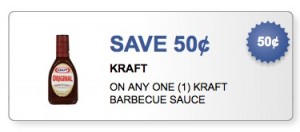 I told you about thisa new 50¢/1 Kraft BBQ Sauce Coupon available on Facebook previously.  These bbq sauce goes on sale for $1 often around this time.  If you have a store that doubles coupon, with a sale you could get super cheap or free bbq sauce after this Kraft BBQ Sauce Coupon.
Here is one scenario for super cheap BBQ Sauce at Target:
Kraft BBQ Sauce – $1.02 to $1.27 (price varies by region)
Use 50¢/1 Kraft BBQ Sauce Coupon
Pay as low as 52¢ per bottle!
Check out the best Target deals here.