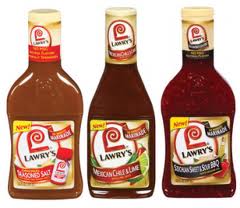 This new 50¢/1 Lawry's Marinade Printable Coupon should come very handy for your summer grilling sales going on at grocery stores right now.  Use zip 44420 and sort by Food to find this one faster.
If you have a store that doubles coupon this coupon comes in very handy.  Some stores have had this for sale for $1, so keep an eye for a similar sale at stores near you.  This is the time to stock up on these types of products.  These are $2 at Stop and Shop and Giant stores, so only $1 after doubled coupons!
Thanks, The Shopper's Apprentice!