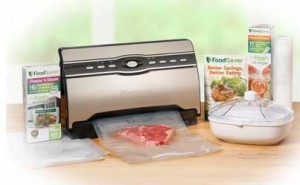 Get 50% off most vacuum sealers sold by Foodsaver with coupon code "R2FEAAA". Most items are eligible for free shipping. This coupon code is not valid on handheld vacuum sealers.
For a best buy consider The Gourmet Starter Kit for $50 after code. This one includes:
16 – Freeze 'n Steam Cooking Bags
11″ x 16′ Portion Pouch Roll
2 – 11" x 10' Rolls
2 Quart Rectangular Container with Cheese Grater
For an advanced model there is also the the Master Chef Kit for $91.50. This kit includes:
1 – 11" x 10' Heat- Seal Roll
3 – Quart-size Heat -Seal Bags
2 – Gallon-size Heat-Seal Bags
1- 2 ¼ Quart Oval Marinator
1 – Portion Pouch Roll
16 –Freeze N' Steam Bags
FoodSaver® Custom Tip Book and $100 in coupons
Great price for the system and all the extras.