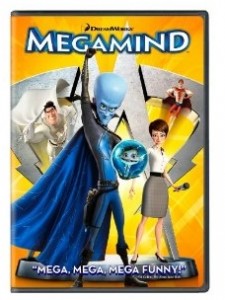 Here is your $5/1 Megamind DVD or BluRay coupon.  I know some of you had asked me if there was one available and here it is!  This one is a new release and it seems the price is around $16.99 at most stores.  here is a round up of the deals you can grab:
Walgreens: $16.99 DVD
CVS: $16.99 DVD
Target: $16.99 DVD or $22.99 DVD and Blu Ray
Best Buy: $13.99 DVD or $19.99 Blu Ray (I have never tried to use a coupon at Best Buy, has anyone tried?)
Or you can grab the following deal on Amazon:
Buy Megamind BluRay/DVD Combo + another BluRay from selection and a $10 Amazon gift card for as low as $36.98.  Plus you get the $10 Amazon Gift Card, so a net cost of $26.98 for two BluRays.  You must add all three items to the cart.
Thanks, My Frugal adventures!