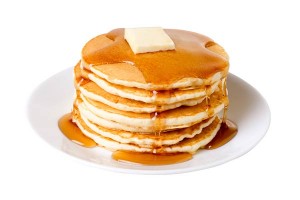 Breakfast is the most important meal of the day. It revs up your digestive system and gives you a much needed burst of energy to start your day.
On busy mornings, though, it can be tempting to skip breakfast and rush out the door. Not only is this uncomfortable and unhealthy, it can also lead to fatigue later in the day.
So, what's a busy family to do on those rushed mornings? These make-ahead breakfasts may be your answer, even on super hectic school mornings!
1. Slow Cooker Oatmeal
Yes you can make oatmeal in a slow cooker, and it's one of the most satisfying make-ahead breakfasts I've tried! There's nothing like a hot breakfast in the morning with no work. Start by spraying the inside of your slow cooker with non-stick cooking spray or lining it with a slow cooker bag or foil. Combine 2 cups of old-fashioned oats with 4 cups of water and cook it on low for up to eight hours. You can also stir in some tasty flavorings, like  brown sugar and cinnamon or fresh fruit.
2. DIY Instant Flavored Oatmeal
If you and your family don't mind taking a moment in the morning to pop some oatmeal in the microwave, homemade instant flavored oatmeal packets are also nice make-ahead breakfasts. Making your own instant oatmeal packets involves a little more work, but it's also much less expensive than the store bought packets. Just portion out a half cup instant oatmeal in resealable plastic bags and add flavors like cinnamon, brown sugar, and dried fruit. In the morning pour it into a bowl, add 1 cup of water or milk, and microwave for two to three minutes.
3. Breakfast Burritos
Yum! My favorite of all the make-ahead breakfasts! As an added bonus, you can usually make these in large batches, wrap them in wax paper, and freeze them. Pull them from the freezer the night before and pop them in the microwave in the morning. To make breakfast burritos, wrap scrambled eggs, sausage, cheese, sauteed peppers, onions, or any other fillings you want in a soft tortilla.
4. Pancakes
When you think of make-ahead breakfasts, pancakes probably don't cross your mind. But, these are great make-ahead breakfasts and probably the most popular in my house. When you have some extra time, make a large batch of pancakes and freeze them in a large plastic bag with wax paper between each pancakes. In the morning, just pop a couple pancakes in the toaster and you're good to go. Just like frozen waffles, but a fraction of the cost.
5. Muffins
A list of make-ahead breakfasts wouldn't be complete without muffins. Any kind of muffins will do for this – blueberry, pumpkin, apple, even zucchini! Just make a large batch of muffins and store them in an airtight plastic container lined with paper towels. You can also pop the muffins in the microwave for a few seconds in the morning for that fresh-from-the-oven feel.
6. Breakfast Pizza
If you have room in your freezer, you can always make ahead some breakfast pizzas. Start with your favorite pizza dough and add "breakfasty" toppings. Think scrambled eggs, cooked bacon,cooked sausage, onions, and cheese. We also like to use Alfredo sauce in place of regular pizza sauce. Bake for 6-8 minutes in a 400 degree F oven and your set. Wrap cooked pizza slices in foil and store them in a large plastic bag in the freezer. You can pull out as many slices as you need in the morning and heat them up in the microwave or oven.
Do you have any go-to make-ahead breakfasts?
More Frugal Living Resources: