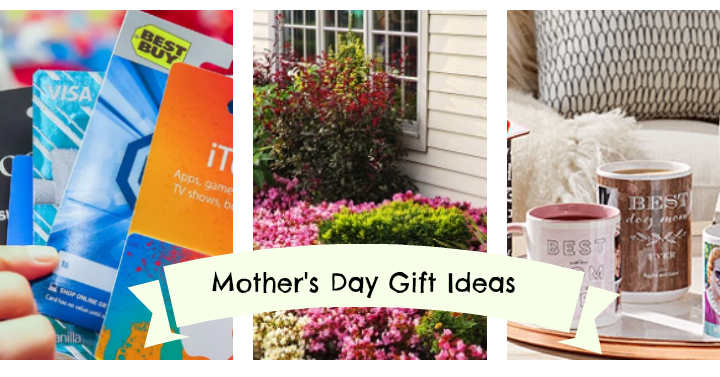 Mother's Day is coming up on May 14th and it's time to get those Mother's Day gifts in order. Every year I have to think of what I can get for my mom that would be sentimental, yet in our budget. Here are a few ideas that won't break the bank and hopefully bring a smile on your moms face.
Gift Cards. You may be thinking, but that's not unique. Let me explain. Make this gift card personal to a specific store. If I receive a gift card to Target or Walmart, I'm not super excited. I'll most likely buy essentials or groceries. However, if I were to get a gift card to See's Chocolates, ULTA Beauty, a Massage or Spa I would be much more excited. This way I get to spend the money on ME! So think of your mom and her favorite places and spoil her with an excuse to go shop!
Personalized Items. I love checking out Shutterfly this time of year. Make a personalized canvas print, blankets,or a mug. Personalized items are so much more fun especially when grand kids are involved!
Getaway. If it's been awhile since your mom has been on a getaway, check into Groupons Getaways and see if there is one close by that you can score. I know these are more expensive, but if you were to go in on it with siblings it wouldn't be so bad. This is one that probably can't be done every year, but if spread it out and surprise her!
Jewelry.  There are so many custom made jewelry stores and boutiques out there these days. Try looking at Jane and the different boutiques that offer fun jewelry options. Be sure to order yours soon so it can arrive in time for Mother's Day.
Garden Flowers or Trees. This is something my own mom loves getting each year. We actually go shopping together and she picks out which plant or tree she wants for her yard. She's already planning and researching which one to get! To help with money, be sure to look on the Garden Nursery's webpage for any coupons available.
Grandma Questionnaire. For the grandmas out there, have the grand kids fill out these fun questionnaires. These are so fun to see what the kids say. This is one of those gifts that grandmas love and keep forever.
What are your plans for Mother's Day this year?