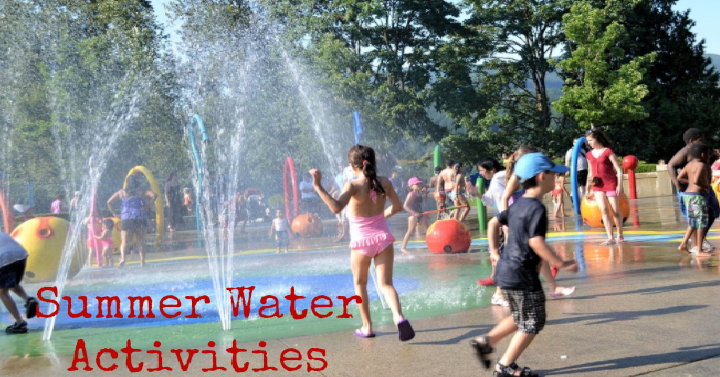 Happy Summer!! Okay it may not be "officially" summer. However, the kids are out of school and the weather is over 90 degrees so it definitely feels like summer! With the warm weather, my kids have a hard time being outside if it doesn't involve water or shade. There are so many fun activities you can do that involves water and the kids will sure enjoy them.
Water Balloon Games: Who doesn't love water balloons? Grab these new easy fill water balloons and play games like hot potato, or towel volleyball, or have a water balloon fight. It's always one of the favorite things to do.
Slip n' Slide: If you don't have a store bought slip n' slide, you could just use a plastic covering that would work for a slip n' slide. Grab some water boards and surf down the slide. This provides hours of fun.
Splash Pads: Search for local splash pads in your area or go find new ones to explore. These are becoming more popular and are so refreshing with the heat.
Car Wash: Combine water and work with car washing! Get in your swim suits and get those cars washed while you may end up having a water fight. Ask neighbors if they want their cars washed as well.
City Pools: These types of pools usually will require a fee, but check their websites for specials or discount rates. You can usually grab a family pass or punch pass and save money too.
Kickball with mini pools: Play the classic game of kickball, but instead of having bases have a mini pool for each base. They have to stand in the pool and then you can have a slip n slide from 3rd to home just to make it a little more fun.
Sprinklers: They have some seriously cool sprinklers now days. Never under estimate the power of a good sprinkler to keep the kids entertained.
What are your favorite water activities during the summer?