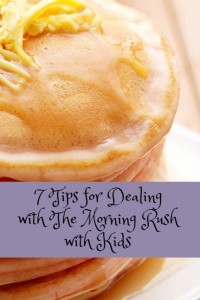 Are you exhausted by the daily morning rush that is involved with getting the kids up and ready for school?  With Summer in the past and Fall in full force, many of us are getting a reminder of how hectic mornings can be!
There are ways though, that can help you deal with the morning rush with kids.  We have put together a list of 7 tips that will help your mornings run more smoothly!
Prepare in advance.  If you set aside a plan each evening, your morning is likely to go easier.   Be sure that homework is done the night before.  Also, make lunches ahead of time and put them into the fridge to grab easily the next morning.  It is also a good idea to set out clothes for each child to prevent the "what to wear meltdown" that often occurs in the mornings.

Go to sleep early.  Make sure that the kids and you get to bed early so that you are well rested.   

Be the first up.  Get up early and have yourself ready so that you are not trying to do that at the same time as the kids.  If you are prepared and ready to go, you can put your focus on the kids.  

Early wake up time.  Wake the kids up early.   There are undoubtedly things to go wrong.  From a spilled breakfast to hairstyle disasters and even 15 minutes early could make the difference.  Also, even if you end up waking them up, it's a good idea for them to have their own alarm clock set to the correct time (this will get them started on being more independent in the mornings).

Say no to the screen.  Don't let your kids (or yourself) get sucked into the TV or internet in the morning.  As we all know, it can be very distracting and can slow down morning progress.

Meal plan.   Do you plan out your dinners for the week?  You should do the same with breakfast.  If you already know what the plan is, there is no last minute cooking or rushing through the drive through for breakfast before school.

Give the kids a schedule.  Just like you, kids can work with a schedule.  If you tell them to get dressed, who knows how long it will take them.  But if you say that they have 10 minutes to get dressed, there is no guess work.  Sticking to a morning schedule is one of the easiest ways to prevent the morning rush.