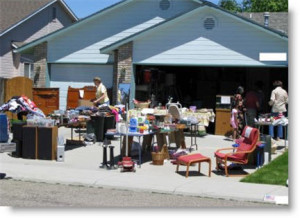 A garage sale is something that I enjoy having every single summer, because I really hate having clutter in my home and it also gives my family the opportunity to purge things that we really don't use or need anymore. With summer quickly approaching I thought now would be the perfect time to do a post like this one with some valuable info in it if you're thinking about hosting your own garage sale, because there's a right way and a wrong way to host one.
Below, you'll find my tips for having an awesome garage sale.
#1. Price Your Items in Advance
This is a tip that I highly suggest you take note of, because it's an important one. You'll be amazed at how quickly people will start to pour in at your garage sale and you certainly don't want to be fighting the crowd to put price tags on your own items. Also, you don't want a ton of people coming up to you and asking how much an item costs. Therefore, it's important that you tag items before your garage sale goes live. I like to tag them while I'm sorting through them, so I save the maximum amount of time.
#2. Price Items to Sale
A garage sale is a way to make some extra money, but you shouldn't look at a garage sale as a way to make money. Instead, you should look at it more as a quick way to get rid of some of your junk. In other words, you should price things as low as you can. It sucks when you go to a garage sale and things are overpriced. Try to keep your prices between the prices of $0.25 – $1.00 and you'll do fine. Remember, even though you may have paid $100 for an item last week doesn't mean you'll get even 1/4th of that price this week. Keep it low.
#3. Put a Price Tag on Everything
Even if you have a collection of small items that a price tag won't fit on. Throw these items in a shoe box and mark the shoe box with a price tag per item.
#4. Host a Garage Sale with Friends and/or Family Members
I always host my garage sales and invites friends and family members to come over and include their items, as well. The more items you have, the more people will stop in and check out the sale you're having.
#5. Have a 2-Day Sale
I like to host my garage sales on both Friday and Saturday, because you'll get different types of people on both days. Friday is for those people that want to come in and get the "pick of the litter" as I call it. Saturday is for those casual shoppers that stop in, because they went home and crashed out at the end of the work week.
#6. Pick the Right Time
Hosting a garage sale on a holiday weekend isn't necessarily a bad idea. Also, you shouldn't schedule your garage sale during a town celebration or anything like that. People will be more likely to go to the town celebration, rather than stopping in and checking out your garage sale.
#7. Pick the Right Location
No one is going to come to your garage sale if they have to drive 10 miles off of the main highway up a dirt road and make 30 turns. If you're hosting your garage sale with a friend of family member you should host it at whoever's house has the best location. Hosting beside of a busy street is optimal.