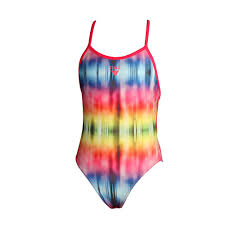 With warm weather comes swimming! I know my kids live for swimming in the summer, and I'm pretty find of it as well. Since these summer staples can be pretty pricey, though, I'm usually on the lookout for ways to save money on swimsuits.
The good news is there are lots super simple ways to save money on swimwear!
#1. Buy Off-Season
Buying swimwear at the height of the swimming season isn't the best frugal move in the book. If you really want to save money on swimsuits, it's best to make your purchases in the off-season.
Most stores have swimsuits on sale in the spring, and prices are slashed even more during Memorial Day weekend sales. If you can wait, you might also want to purchase a swimsuit for next year during summer clearance sales.
#2. Watch for Sales
Just because stores most often offer the biggest markdowns on swimwear in the off-season doesn't mean you can't save money on swimwear during summer.
Keep your eye out for sales throughout summer if you missed the off-season sales. Some stores like Old Navy and Kohl's will have some pretty smokin' deals on swimsuits smack dab in the middle of summer.
#3. Don't Forget Coupons
While you're watching for sales, also keep your eye out for coupons on apparel and swimwear from your favorite stores. You can often save money on swimwear and get amazing deals when you combine sale prices with coupons.
Be sure to read the fine print on the coupon, though, to ensure that it doesn't exclude swimwear.
#4. Check Thrift Stores 
By buying gently used items, you can also save money on swimsuits. Sometimes you can save a bundle of money! I've seem swimsuits and trunks at my local thrift stores that still have the tags on them! Plus, if you catch them on a sale day, you could end up paying less than a buck!
Some people are eeked out about the thought of buying used bottoms, and I don't blame them. I'm one of those people. However, if you wash the swimsuit bottoms well, you really shouldn't have a problem.
#5. Think Outside the Box
For years I had such a hard time finding a good swimsuit top that fit well. It was just depressing…really. Finally, I found a super comfortable heavy duty sports bra that worked well. It could pass for a swimsuit top, and it offered so much more support than most regular swimsuit tops!
If you can't find a swimsuit top that fits, don't ignore the sports bras and athletic tank tops. You can get better fitting tops and save money on swimsuits by just buying inexpensive swimsuit bottoms and a tank top or sports bra that matches.
#6. Try Before You Buy
If the thought of trying on swimsuit bottoms eeks you out, again I really don't blame you. But one of the best ways to save money on swimsuits is to make sure they actually fit. Not all stores accept returns on swimsuits, so buying one that doesn't fit, you could be wasting a bundle of money.
When trying on swimsuits, the bottoms generally have a protective sticker in them. You can minimize the ick factor by leaving your underwear on while trying on the bottoms.
#7. Care for Swimsuits Properly
Taking proper care of your items can also help you save money on swimsuits. Proper care can help keep your swimwear in good condition, and it can last for years. This means that you'll spend less money on swimwear int he long run.
After swimming, rinse your swimsuit well in cold water to remove any salt or chlorine. You can also use aquarium dechlorinator to remove chlorine. Swimsuits don't need to be washed often; a good rinsing should do the trick. However, when you do wash your swimsuits, skip the washer and handwash them with a mild soap. Don't let your swimsuits sit around wet either, since this can cause mold and mildew to grow. Hang them to dry as soon as possible.
Any other tips to save money on swimsuits?