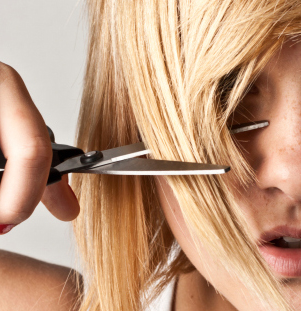 Staying pretty or handsome isn't always cheap! Between haircuts, coloring, highlights, lowlights, and everything in between, most families can spend hundreds or even thousands of dollars on salon visits every year! While salon visits aren't an absolute necessity, they are a creature comfort that we've gotten used to.
While it may not be possible to completely get out of paying for our primping, there are still several ways to save on salon visits! So, stop throwing money at your stylists and start saving more money with these tips!
#1. Learn to Do It Yourself
The biggest way to save on salon visits is to simply not go to the salon. Instead of handing over your hard earned money to someone else, keep it and try your hand at cutting or coloring your own hair and your family's hair. This may seem like a pretty daunting task to some, but it might be easier than you think. Hair coloring kits are pretty straightforward and clippers with guides can be used to cut boys' hair. Long hairstyles are also easy to trim and maintain at home as well.
#2. Touch Up at Home
If you aren't ready to take the plunge and skip heading to the stylist completely, you can still save on salon visits by lengthening the time between visits. You can easily just the roots of your hair to color grays and growth. You can also trim your bangs and split ends at home as well in between cuts. Heading to the salon only once or twice a year can still save you big bucks.
#3, Stick With a Simple Cut
Simple basic cut are much easier to take care of and maintain. That means that they're easier for you to cut yourself, which mean you can save n salon visits.
#4. Sign up for Deals
The next time your stylist asks if you'd like to join the mailing list, say yes! You'll often receive some great coupons to save on salon visits either ia email or snail mail. You can also check out your salon's website or Facebook page for exclusive discounts.
#5. Ask for Deals
Save on salon and styling services simply by asking. Ask your stylist if they offer any specials on certain days or how you can score coupons. Some salons might also offer a loyalty program for repeat customers.
#6. Visit a Cosmetology School
Cosmetology students often offer discounted salon services like haircuts, coloring, styling, and manicures. Students gain some real experience and you get a deep discount. Everybody wins!
#7. Shop Online
You can sometimes find great deals to save on salon visits and services online. The best websites to find salon deals in your local area are Groupon and Living Social. Just choose your local area and search for beauty and spa deals in your area. You can usually find deals on manicures, hair styling services.