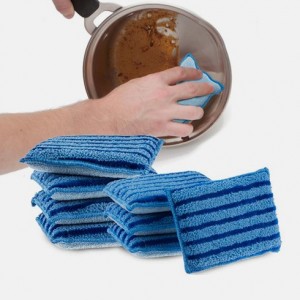 Ew! I hate kitchen sponges. They're full of nasty germs and just plain grody! I could definitely get used to these reusable microfiber sponges, though! One side is covered with soft microfiber cloth, while the other side has strips of tough scrubbies.
The best part? You can just toss them in the dishwasher or washer when they need cleaned! Oh, and they're pretty cheap!
Head over to and grab an 8-pack of reusable microfiber sponges from Tanga for just $4.99. Shipping adds an additional $1.99, so just $6.98 total for 8 of these sponges. That's just $.87 each, a little more than traditional sponges, but it should save some money in the long run.