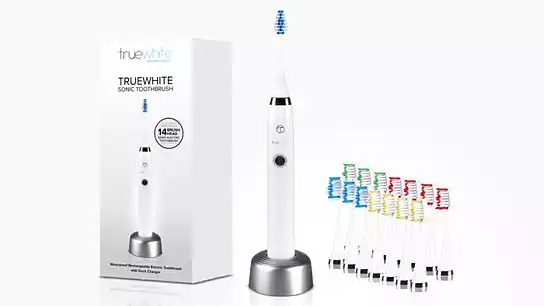 You can save BIG on a new sonic toothbrush right now! Open Sky is offering the truewhite Advanced Care Sonic Toothbrush with 14 Brush Heads in white for only $33.00 right now! That's 87% off the original price of $260.00! 
This toothbrush has four working modes—Clean, Sensitive, White, and Gumcare.
Clean Mode has a standard two-minute auto timer for an exceptional everyday clean through its sonic vibrations that allows 37,000 brush strokes per minute, which removes plaque and bacteria left behind by other toothbrushes especially in hard to reach areas. 
Whitening Mode is 2 minutes to remove surface stains with an additional 30 seconds to focus on brightening and polishing the front teeth.
Sensitive Mode is for people with Sensitive teeth that provide gentle teeth and gum cleaning to help protect their oral area that needs sensitive care. It has 37,000 brush strokes per minute.
Gum Care Mode can be used to clean and gently stimulate and massage gums for a whole minute and increase blood flow to help improve body defenses against gum infection.