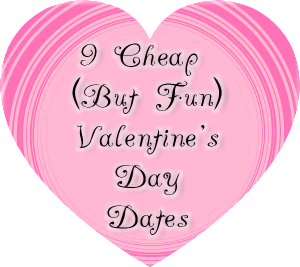 If you're like most other couples, you're probably gearing up to celebrate Valentine's Day next week. This is usually a day to celebrate your love and devotion to each other. It usually brings about romantic thoughts of imported wine, candlelit dinners, diamond jewelry, dozens of roses, and exquisite chocolates.
Certainly sounds romantic, eh? But what if you can't afford all of the bells and whistles?
The truth is you don't need to spend gobs of money to have a fun, fancy, and romantic Valentine's Day. Cheap Valentine's Day dates can be just as fun – if not more fun! – than dates that drain your bank account. You just need to get a little creative and think outside the box…
1. Create Your Own Restaurant
Heading out to a fancy restaurants aren't usually considered to be cheap Valentine's Day dates. Instead, stay in and go to your own restaurant. Cook a nice dinner together, or surprise your loved one. Dim the lights, light some candles, break out the fine china, and put on some slow music to set the mood.
2. Dine Out For Cheap
If you're looking into cheap Valentine's Day dates but still want a romantic evening out, try looking online. Many restaurants offer valuable coupons on their websites and social media pages. You might also be able to find deals for up to half off local restaurants by checking on websites like Groupon or Restaurant.com.
3. Get Competitive
If fun cheap Valentine's Day dates are more your style, get a little competitive. Break out the playing cards and board games and have a game night. Friendly and racy wagers can turn a normal game night into a more romantic one.
4. Be a Kid Again
There are lots of cheap Valentine's Day dates you can arrange that are fun and carefree – just like when you were a kid! Go play laser tag, hit a paintball arena, drop some quarters at an arcade, or go skating. If you live in a snowy area, try sled riding or – if you can find it – going for a sleigh ride.
5. Hit the Thrift Store
The thrift store may be one of the furthest things from your mind, but thrift store trips can be fun and cheap Valentine's Day dates. Each person gets $5 or $10, and has to choose a gift for the other. It can be anything from a book to a pair of champagne flutes to a flirty new outfit. The only catch is that you both have to use the items that the other person chose later.
6. Go Camping
It doesn't have to be the middle of summer to go camping. Pull out the tent and sleeping bags and camp out right in your house. You can cook smores in your fireplace or over a candle and sip on hot cocoa. Later, you can snuggle together in the tent and watch a movie – something you can't do in the great outdoors.
7. Play 20 Questions
Make a list of several questions to ask you significant other. Make a batch of finger foods, like chocolate covered strawberries, and take turns asking each other your questions. If you're stuck for ideas, take a look at these.
8. Make a Bucket List
What?? You don't have a bucket list yet? This is one of my favorite cheap Valentine's Day date ideas. Make a list of things that you want to accomplish or do together, such as visiting another country or sharing an intimate moment in the rain. If you both already have a bucket list, try to combine them and add new items.
9. Have a Spa Night
Spa nights make great cheap Valentine's Day dates! Although he may not be into the mani-pedis, he'll probably still appreciate a bubble bath and some massages. Light some candles, fill the tub with hot water and yummy bubble bath, and take turns pampering each other. You can make it a luxurious experience, or a little naughty by adding some flavored massage oils or…well, you get the idea.
Feel free to add your own ideas for cheap Valentine's Day dates!