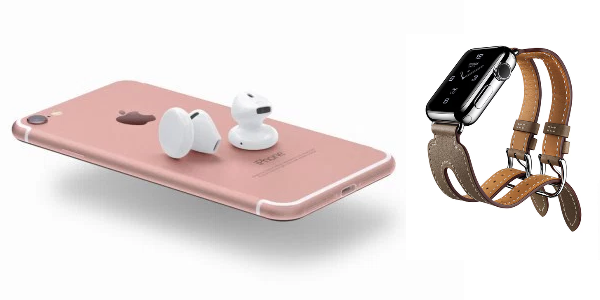 As expected, Apple announced the new iPhone 7 yesterday. Although it is very similar to the iPhone 6, hard core Apple fans are sure to be happy with many of the iPhone 7 upgrades!
The iPhone 7 may have been the show stealer and most anticipated announcement yesterday, but that doesn't mean it was the only new device launched. Apple also announced a few other new gadgets and devices as well…
AirPods
One of the most buzzworthy pieces of news lately has been the missing headphone jack on the new iPhone 7. Instead of dealing with messy wires, iPhone 7 users will be forced to go wireless to connect their audio. Bluetooth is always an option, of course, but Apple has also released AirPods, which are wireless earbuds. They're like the wireless version of the EarPods. AirPods reportedly allow for up to 5 hours of listening per charge, but the case they come in also charges them back up, allowing for more than 24 hours of battery life, and just 15 minutes of charging equals 3 hours of battery life. The AirPods won't be available until October and will set iPhone 7 users back $159.
Apple Watch Series 2
The new Apple Watch Series 2 has a lot going for it when compared to the original Apple Watch! First and foremost, is is water-resistant down to 50 meters. That means users can swim with it on and track their progress. The Apple Watch 2 has a better processor and is also said to be faster with a brighter display. Finally, the new Apple watch also has a built-in GPS chip. Consumers can pre-order the second generation Apple Watch on September 9th for a mere $369.
Apple Watch Nike+
If the plain old Apple Watch 2 isn't sporty enough, consumers also have the option of going for the Apple Watch Nike+. This is a sportier version of the popular smartwatch, and it's geared toward runners. In addition to looking just a bit cooler, the Apple Watch Nike+ will also integrate features from Nike's popular Nike+ app. Slated to come out this October, this version of the Apple watch is also $369.
Some consumers were anxiously awaiting news on some of Apple's other products, including the iPad, Mac commputers, Apple TV, and Apple's Home app. Unfortunately, these were either unmentioned or quickly glossed over during yesterday's event. However, there is some speculation that we may hear news on these in October. Only time will tell.
What do you think of the new Apple products? Are they enough to make you wanna run to your nearest Apple Store?