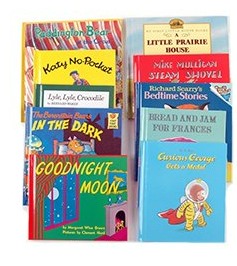 I LOVE deals on kids books! and this one makes for very cheap hardcover ones. Right now on Shop Taste of Home you can get this All-Star 10 Hardcover Book Collection for $14.99 and it ships for an additional $1.99. Use code LS105 to get this lower price.  This collection includes:
Mike Mulligan & the Steam Shovel
Lyle Lyle Crocodile
Curious George Gets a Medal
Bread and Jam for Frances
Goodnight Moon
A Little Prairie House
Paddington Bear at the Circus
The Berenstain Bears in the Dark
Richard Scarry's Bedtime Stories
Katy No-Pocket
This makes each book just $1.69.  Great price for a hardcover book.  These would be great to buy for book exchanges or gifts.  This offer sold out fairly fast when it was available last year.