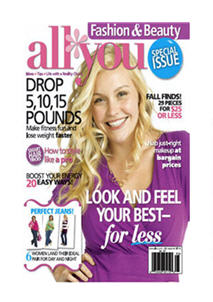 ALL YOU has partnered with Susan G. Komen for the Cure® to help raise money for women whose lives have been affected by breast cancer.  Right now anyone who donates $15 or more to Susan G. Komen for the Cure® will receive a special gift from ALL YOU – a FREE copy of their Fashion & Beauty Special Issue (Value: $4.43) filled with over $30 in coupons for popular products and from popular retailers.
If you are interested in making a donation and receiving a free gift from ALL YOU,this is what you need to do:
1. Click here to donate directly to Susan G. Komen for the Cure®
2. Forward your donation confirmation to ALL YOU at aypromo@allyou.com. Please include full contact information: full name, address, city, state, zip and phone number.
You may also want to stop by All You and share your own personal story well as read stories of other women who have been impacted by breast cancer.