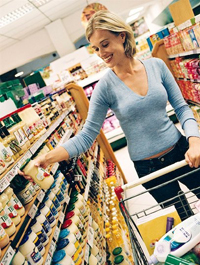 I have a very cool challenge to share with you today: All You Magazine is asking readers to participate in the Grocery Challenge.  What's the Grocery Challenge about?  All You Magazine wants to see how put your shopping smarts to use and spend $25 or less to feed each family member WEEKLY!
How generous is that?  I KNOW lots of you are already doing that.  If you are not, then this is the perfect challenge for you, because you can challenge yourself to do this and have a chance to win some pretty cool prizes in the process.
Here are more details about this challenge:
:::  You need to start by registering for this challenge so that you can be an active participant and get credit for and track your efforts.
:::  The challenge lasts five weeks starting on July 13th through August 17Th.  During this time period the challenge is not to spend more than $25 per family member per week. Household supplies and toiletries do not count toward each weeks total. You can spend less by growing, bartering or using stockpiled food to supplement your meals. BUT, if you wish to take a break from cooking and eat out or order take out the cost must go toward the week's total.
::: You can use the Spending Log provided by All You to track your spending but make sure to keep all of your receipts during this period. if you are chosen a finalist you will be asked to submit them. So, find a shoe box to keep those receipts safe during this five week period.
How will the winner be chosen?
::: All entries and exit forms will be judged by All You's editors, based on the following criteria: Staying within contest spending guidelines (50%); creativity and ingenuity (25%); and healthy choices (25%). All You will select 10 finalists, from whom a winner will be chosen on or before August 24, 2009. All finalists must submit grocery receipts. Incomplete and/or inaccurate entries and entries not complying with all rules are subject to disqualification.  Check the rest of the contest rules here.
Exactly what could you win?
::: One Winner will receive a $1,000 grocery card and a year's supply of Knorr side dishes and will be featured in All You magazine and the CBS Early Show in December.

I can't tell you how much I would love to hear that one of my readers is the winner of this challenge!  And I just know it is so feasible.  You can count on my help providing you with the hottest deals during that time period to make sure you stretch those dollars to the max!
PLUS to get you started on additional savings I am giving away TWO one-year subscriptions to All You Magazine.  You guys know I love All You magazine and the coupons you can find in it.  What a better way to get ready for this challenge than by giving you a chance to get access to these coupons for FREE!
How do you enter this giveaway?
Leave me a comment sharing that you have joined the All You Grocery Challenge and are ready to get started prepping for this challenge.
This giveaway ends July 7th at 9PM CST.  U.S. residents 18 years and older only please.  I will pick two winners and contact them at the time the giveaway ends.  If after 48 hrs they don't contact me back I will select another winner.
Good luck!