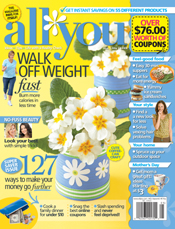 Thanks to a lot of free magazine offers I don't pay for any magazine subscriptions anymore, except for one: my subscription to All You Magazine.   If you have never heard of All You magazine, then let me tell you that you have been missing on a lot of savings.  All You Magazine is sold only at Walmart for $2.24 per issue and it comes filled with some really awesome coupons.  Coupons for free items some around often  Just last month there was a coupon for FREE Rimmel mascara.  If you used this coupon at Walgreens or CVS when they had the product on sale Buy One Get one, you got not one but TWO free.  Last year there was a coupon for free Adidas deodorant that helped make this an incredible moneymaker deal at CVS.  In short, this is one magazine worth subscribing to.
Last week I received an email from a couple of readers wondering if I knew a way to get a free one year subscription to All You Magazine.  I was very sad to informe them that unfortunately there are no current free year subscriptions for this magazine BUT I can offer you a very sweet deal.  Right now, I am offering my readers a very special subscription offer to All You Magazine.  You will receive a two year subscription for only $17.99 TOTAL!  That's only $0.75 per issue.  That's almost 70% off the cover price.  That's the best price I have seen around.  Unfortunately, I can only offer you this special pricing for one week only and through April 20th.  So, you want to act now!
To make this an even better deal I am giving away one  FREE two year subscription to one lucky reader.  If you place an order by following the steps below and before 4/20, you will be entered in the drawing for a free two year subscription.  The winner will be selected at random among all of those who placed orders. If you are the winner, you will be contacted and your money will be refunded.  You could get a lot of savings for two years FREE.
So, how do you order?
1. Go to the Southern Living at HOME website. Note: You must use this link to get the discounted price!.
2. Click on Our Products in the left-hand column and then How To Purchase.
3. Type in COMMON in the hostess first name field then click Continue.
4. Select COMMON SENSE WITH MONEY.
5. In the search box type 40776 then click Go.
6. Click on All You Personal Subscription then Select this Item.
7. Select Finalize and Submit Your Order and follow the screens through to checkout!
Notes:
* If you receive any errors at the end of your order or have problems placing an order, please contact <allyou@dealseekingmom.com>.  She will get your customer information reset and will be able to successfully complete your order.
* Do not select Direct Ship – the $10 shipping fee is not applicable to magazines.
* Your order and the invoice will show $19.95 as the price – I will discount the price after your order is submitted.
* Please pay with a debit/credit card during checkout. Do not click submit more than once as this can cause multiple charges.
* Magazine purchases are non-refundable – but I doubt you'll find a better deal anywhere else!
* More Frequently Asked Questions for ALL YOU orders.
You can expect your first issue to arrive approximately 6-8 weeks after your payment posts!
Are you already a subscriber?  Let me tell you, by ordering now, you can surprise someone with a very nice and useful Mother's Day present.  Hey! or even Father's Day present, I know I have a lot of dads who read this blog.
Good luck!