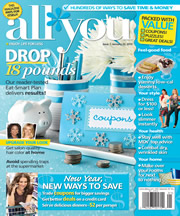 The coupon you are looking for was released in the magazine called All You.  This magazine comes every month with lots of high value coupon savings.  A monthly subscription pays for itself with the coupons that come inside it.  If you would like to get this magazine here is the best deal to get it:
Right now you can get 24 issues of All You magazine for $30. Just click on "Support Us" and you will find this special rate after you search for All You magazine among all the magazine choices available.
This is $1.25 per issue and probably one of the best deals available right now. Plus up to 40% of what you pay goes to contribute our cause. In this case the proceeds of these fundraiser will go to Compassion International and help sponsor children living in poverty across the world.
Thank you so much for your help!
Each time you make a purchase, we'll receive up to 40%. You can also support us by sharing this page and spreading the word to friends and family.