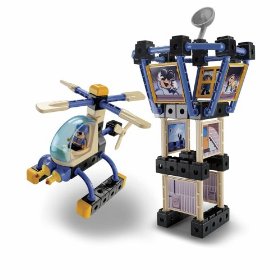 Amazon is currently offering $10 off when you purchase $25 or more in select Trio toys when you use the promotional code TRIOSAVE at checkout.  You get free shipping with free super saver shipping too, as the $25 requirement is calculated before the discount.  Here area couple of things you can get for $15 or so plus free shipping:
Fisher Price Trio Crazy Creatures + Fisher Price TRIO Siege Tower= $16.74 after discount and shipped free
Fisher Price TRIO Airport = $15.23 after discount and shipped free
This is NOT part of this promotion, but I just noticed that TRIO also makes the Fisher-Price TRIO Girls Starter Set with Storage
set for girls in pink and purple colors.  I thought it was about time.
Here are other deals that may be of interest:
Cloud b Twilight Constellation Night Light (I have heard good reviews on this one) $21
Blue Ridge Microsuede Duvet set in Chocolate for $29.99 down from $120
Thanks Baby Good Buys!