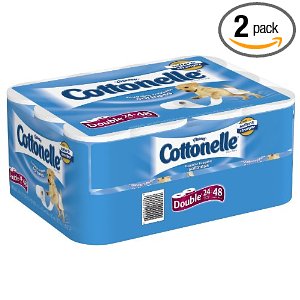 Toilet paper deals are really hard to come by lately and weekly I get requests for them.  I am always keeping my eye open for them and right now there is one on Amazon.  You can get up to 25% off Cottonelle Toilet Paper when you combine the 15% off Subscribe and Save Discount with the 10% discount provided by coupon code PAPERSNS (use at checkout).  This code is good through 3/25/11.  Here are some deals you can grab:
Now, I am going to tell you how I save money on toilet paper (or other stuff I need regularly but have a hard time finding deals for).  I use any overage from drugstore deals to pay less for the item I need. So for example, if you did the Post Fruity Pebbles deal at Walgreens:
Buy five Fruity Pebbles Cereal cups $0.79 after in-ad coupon
Pay $3.97 plus tax out of pocket and get back two $4 Register rewards
Use the $4 in overage to get the 12ct pack of Cottonelle Toilet Paper (reg. $5) for just $1 out of pocket.  But I understand not everyone has  a Walgreens or CVS, so that's why I post online deals.