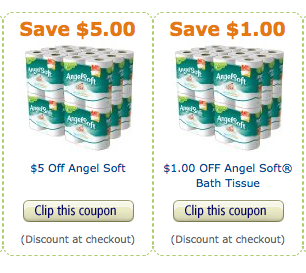 Amazon currently offers a great discount Quilted Northern and Angel Soft Toilet Paper.  Hed to the Amazon Grocery coupon page where you can find two coupon for $5 off and $1 off for Angel soft toilet paper.  For Quilted Northern you will find a coupon for $5 off that brand of toilet paper.  But after you clip it and click on the product link, you will find an ecoupon for an additional $1 off on the product page.  That makes for $6 off each of these products.  So to get this deal:
Head to the product page of what you want to buy:  [easyazon-link asin="B007UZNS5W"]Quilted Northern Ultra Plush Double Rolls, 6 Rolls, Pack of 8 (48 Rolls) (Packaging May Vary)[/easyazon-link] or [easyazon-link asin="B009EQ3MBK"]Angel Soft, Double Rolls, (4 Rolls*12 Pack) = 48 Total Count[/easyazon-link].
If you order using subscribe and save you will get free shipping.  And you will pay $18.64 for 48 double rolls of Quilted Northern (39¢ per double roll or 20 cents per single roll).  For the Angel Soft you would pay $15.50 for 48 double rolls (or 32¢ per double roll or 16¢ per single roll).
You can see below that both the $5 and $1 ecoupons are applied at checkout for this great discount.

Thanks Crystal!