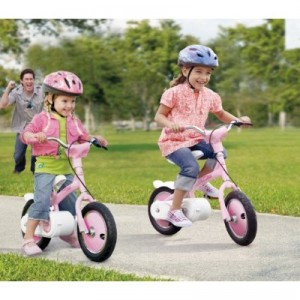 All of these offers have expired!
Amazon is running against time.  See, December 17th is the last day they can guarantee items shipped via Super Saver Shipping will get to you before Xmas.  So Amazon is slashing prices like crazy these last few days to get some sales.  Here are some crazy discounts on a Bike, trike and Lil' Quad:
Playskool Glide to Ride Bike Girl $35.99 from $119.99 *no longer this price
Radio Flyer 53G Girls Deluxe Steer and Stroll Trike, Pink $29.99 from $99.99
Fisher-Price Diego Lil' Quad $23.99 from $79.99
Radio Flyer Sport Coupe $27.83 from $129.99! (Walmart.com has this one for $79.00) * no longer this price
Thanks Coupon Gal!