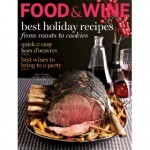 Starting today and through December 1st,  Amazon is running a hot magazine subscription sale. There are quite a few good magazines available for a one year subscription for $5 only.  Here's a quick list, but you can see them all when you click here:
Food and Wine Magazine
Real Simple
Cosmopolitan
People Style Watch
Smart Money
Popular Science
Sports Illustrated Kids
Personally, I am happy to see Food and Wine Magazine included in this offer as we subscribe to it and love it.  Just in time too as our subscription was coming up for renewal.  If you have a foodie on your gift list this would make a nice inexpensive gift.  This one would be good for Top chef fans, as one of the judges, Gayle, works for the magazine and the chefs are often featured.