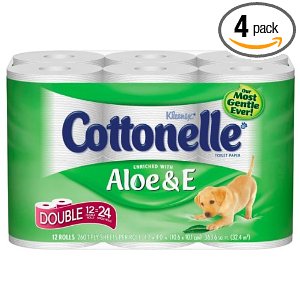 Right now you can get Kleenex Cottonelle Aloe & E Double Toilet Paper, 260-Sheet Double Rolls, 12-Count Packs (Pack of 4)
for $23.88 or $20.30 after subscribe and save discount. Look on the right hand side under "More Buying Choices" and select Amazon.com.  This ships free too. This works to about $0.42/roll.  When you choose subscribe and save you are agreeing to get scheduled deliveries of this product at your chosen interval.  You will pay the price at the time of shipment, unfortunately you can not lock in a price.  If after your order has shipped you decide to cancel your subscription, merely go under "Your Account" and cancel the subscription under "Manage Subscriptions".
Decidedly not as good as the Target deal I shared earlier. But if you don't have a Target near you and need toilet paper this beats warehouse prices.