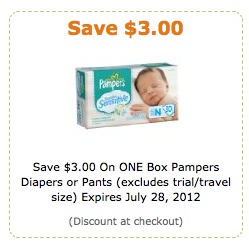 Amazon is offering a couple of high value coupon for Febreze and Pampers diapers products.  Check out these deals:
This $3 off Pampers diapers coupon is good for Pampers Cruisers, Baby Dry, and Underjams.  Just make sure the product is sold directly by Amazon and the coupon should show on the product page.  Just click on it to "clip it" and have the discount available at checkout.  You could use it to get [easyazon-link asin="B005TI83BG"]Pampers Cruisers Diapers Giant Pack Size 3 136 Count[/easyazon-link] for $28.99 when you order using subscribe and save, apply the coupon to your order and are an Amazon Mom Member.  Remember that the additional Amazon Mom discount is only valid now if you are also an Amazon prime member.
This $5 off Febreze products coupon helps you get $5 off any five Febreze products you buy.  Just make sure you are buying products sold directly by Amazon.  You could use it to buy[easyazon-link asin="B003FW8C14″]Febreze Air Effects Twin Pack, Linen and Sky, 9.7-Ounce (Pack of 6)[/easyazon-link] for $15.94.  That's just $1.33 per spray!  This product is currently out of stock BUT you can still order it and get the discount at checkout.  You will not be charged for your order until the product is shipped but you will enjoy the discount now.