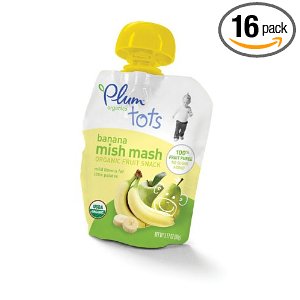 As I mentioned before, this year I plan on using creative ways to buy more organic food items for my family.  One of those ways is by keeping tabs of deals online.  Here are some of the best organic grocery deals available at Amazon for the month of January:
Get Plum Organics Mish Mash Baby Food
for $0.77/pouch when you use code MISHMAS3 at checkout. Offer valid through January 31, 2011.  This is a great price for these ones.  I used to buy them for $1 at Toys R Us when on sale.
Save an additional 30% off Knudsen Juices when you enter code KNUD3434 at checkout and sign up for Subscribe & Save. Offer valid through January 31, 2011.  The organic apple juice boxes are sold out but the pear ones work out to $15.58 for 27 juice boxes.
Get The Bean Coffee Company Whole Beans & Ground Coffee for $7.06 a bag with subscribe & save. Use code: THEBEAN8 at checkout.  This is a better deal than the one offered by the company on Groupon.  On Groupon it offers a $26 voucher for $13.  With the voucher you can get two bags and then pay shipping which is about $12.So in the end you pay $25 for two bags.
Get Wholesome Sweeteners Organic raw blue agave, 11.75-Ounce Bottles (Pack of 6)
for $16.02 after subscribe and save discount. Otherwise it is $18.85. I would love to hear from anyone using agave as a sweetener. Do you like it? how is it working for you?
Thanks Organic Deals and Coupons!