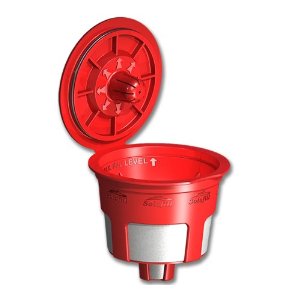 I very often get requests for K-Cups for Keurig brewers. I am often able to find a deal but sometime it is hard to find them. My best advice though uf you want to save money on K-cups is to stop buying them and buy instead a Solofill Cup, Refillable K-Cup For Keurig Brewers
for $13.85 right now. What I like about this is that it is reusable of course, so less waste and also you can fill it with YOUR favorite coffee or tea.  You save more also by buying your coffee in bigger quantities than in single k-cups.  I think it may a couple of tries to find the right coffee measure to fit your taste but once you got it, you are set.
I don't have this particular type but I have a refillable k-cup and it works fine for me.  If you have one of these and want to share your experience using it, make sure to share with us in the comment section.