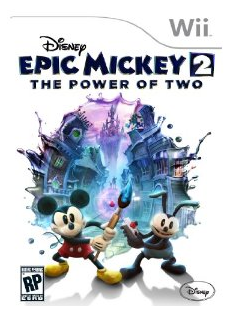 You can get the newly released [easyazon-link asin="B007MM9E42″]Disney Epic Mickey 2: The Power of Two[/easyazon-link] for $29.99 right now.  This ships free with Amazon Prime or with Amazon Super Saver shipping with a $25 order. OR get FREE One-Day Shipping if you purchase this item using your Discover Card or Cashback Bonus®. Enter code DSCVRHSP at checkout.
Product Features
Platform: Nintendo Wii
All in-game characters – most notably Oswald The Lucky Rabbit whose voice will be heard for the first time ever – are fully voiced by the official voice actors of those characters
Players will experience Disney's forgotten characters and attractions in all-new levels and further explore levels from the original Disney Epic Mickey game, but now changed, impacted by world-changing events that have shaken Wasteland apart.
New 2D levels based on classic Disney animated films and shorts will offer compelling puzzle-based, platforming gameplay
Players will enjoy an original game story co-written by award-winning American comic book writer, Marv Wolfman, and Junction Point
The storyline will feature a variety of new and returning characters that will further immerse players in Disney's rich history while adversaries familiar and new will challenge players.