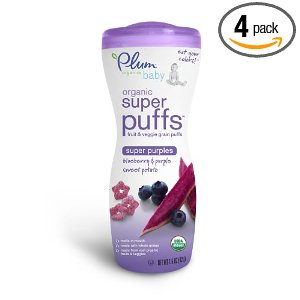 Amazon is offering a Friday Sale on Baby Puffs.  They have regular Gerner puffs and Plum Organics available.  here are the deals:
Plum Organics Super Puffs Purples, Blueberry & Purple Sweet Potato, 1.5-Ounce (Pack of 4)
or Spinach & Apple, 1.5-Ounce (Pack of 4)
for $7.70 when you buy it using subscribe and save and use the code PLUMPUF2 at checkout.
Gerber Graduates Apple Cinnamon Puffs, 1.48-Ounce Canisters (Pack of 6)
, Sweet Potato Puffs
, Cherry Puffs
for $7.7 after you buy using subscribe and save and use code GERBR434 at checkout.
Using Subscribe and Save signs you up for automatic deliveries of this product at the price the item is at the time of shipment, NOT at this sale price.  However, if after you receive your order you decide not to continue with scheduled deliveries, you can cancel your Amazon Subscriptions at any time by going to your Amazon account and clicking on "Manage Subscribe and Save Items".