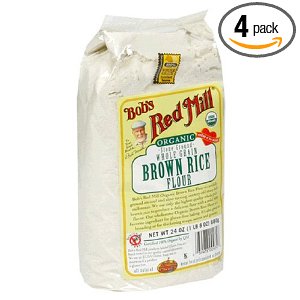 Amazon has some really great deals on some grocery items right now.  I am particularly excited about this deal on Bob's Red Mill Organic Brown Rice Flour, 24-Ounce Packages (Pack of 4)
marked down to $10.44. But as low as $8.87 for all four bags. This is a great value for Rice Flour and those of you on gluten free diets. Gluten Free products are so expensive!
Here are some more current Amazon grocery deals:
Nutiva Organic Extra Virgin Coconut Oil, 15-Ounce Tubs (Pack of 2)
for $13.54 and as low as $11.51 after subscribe and save.
Horizon Organic Reduced Fat Milk, Vanilla, 8-Ounce Aseptic Cartons (Pack of 18)
for $16.50 or as low as $14 after subscribe and save.
All of these ship free if you choose subscribe and save. If you do not go for the subscribe and save then they ship free with an Amazon Prime membership or free with a $25 purchase with free super saver shipping.
Thanks Coupon Geek and She Saved!