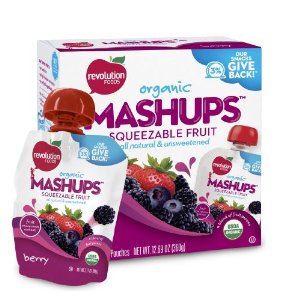 Amazon is offering Revolution Foods Organic Mashups Squeezable Fruit, Berry, 3.17-Ounce Pouches (Pack of 24)
or $20.77 after subscribe and save discount.  These are a great addition for a kid's lunch box and a good price to pay for an organic fruit product.
Here are other grocery deals available:
Farmer's Market Foods Organic Canned Pumpkin, 15-Ounce Cans (Pack of 12)
for $10.20 after subscribe and save discount.  This works to about 85 cents per can.  If you have a Kroger near you, you may want to check for these.  I read somewhere they may be on clearance for 49 cents per can.
Vita Coco 100% Pure Coconut Water, 11.2-Ounce Containers (Pack of 12)
for $13.14 after subscribe and save discount. This is my one indulgence, forget chocolate or Starbucks! I *love* coconut water.
Horizon Organic Reduced Fat Milk, Chocolate, 8-Ounce Aseptic Cartons (Pack of 18)
for $14.02 after subscribe and save. This is cheaper than what you pay at the warehouse store which is usually around $0.88 each. Although for my son I prefer the plain Organic Valley White 1 % Milkfat Lowfat Milk, 8-Ounce Carton (Pack of 12)
because it has less sugars.
If after you have received your product you decide to end Subscribe and Save, just go under "Your Account" and end the subscription to this service.  Both products ship for free if you choose subscribe and save.
Thanks Coupon Geek!