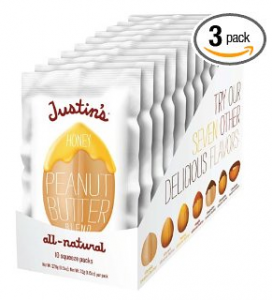 I am loving this deal on Amazon right now. My oldest is going to day camp and I have been racking my brain with ideas of what to put in his backpack for lunch. Earlier this week a saw a deal on these 1.15oz packets of Justin's Peanut Butter
. And now they are even lower!
You can get a box with 30 packets of Justin's Peanut Butter
$11.18. To get this offer you can choose which kind you prefer (Organic Honey Peanut Butter or Organic Classic Peanut Butter)- price is listed at $14.91. Click subscribe and save on the right side and the price drops to $12.67. Use code: JUSTIN55 at checkout and the final price is $11.18 for 30 pouches with free shipping.
It is true this is not the cheapest way to get peanut butter but you are paying for the convenience of the packaging.  I also have to say that I compared to the other PB in packets that are available on Amaozn and this was the cheapest.  A pity actually because I wanted to buy some choco-peanut butter 😉
Thanks, My frugal Adventures!