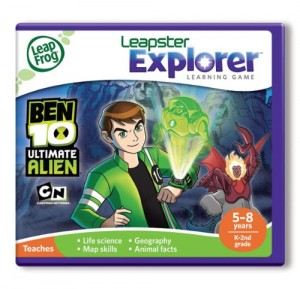 Wow!  This is the cheapest I have seen for these Leapster Explorer Games!  These are the games for the new Leapster Unit the Explorer.  You can find quite a few of them for $14.99 on Amazon.  Here are some are some of the titles but there are more you can see them all here:
Wolverine and the X-Men
My son's favorite. Teaches letter recognition, spelling and word building.
Ben 10
Another favorite, teaches Geography, animal facts and more.
Rapunzel
Disney Princesses: Pop-Up Story Adventures
If you have a Leapster Unit instead, the games are on sale for just $10. Here are some titles:
Cars Supercharged
Disney Fairies
Belle & Ariel
Dora's Camping Adventure
This is guaranteed to get to you by Christmas with Amazon Prime.  You can get a free trial of  Amazon Prime when you sign up for Amazon Mom.  Any caregiver can sign up for it.