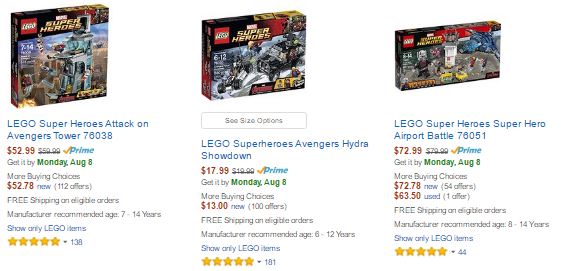 Right now Amazon has discount some of their LEGO SuperHeroes sets up to 30% off! Some prices are as low as $9.09! It's not often we see discounts on these sets so if you think you kids would like them for Christmas you might want to grab them now. Here's a few of the deals:
LEGO SuperHeroes Green Lantern vs. Sinestro just $14.19 (Reg $19.99)
LEGO Superheroes Gorilla Grodd Goes Bananas just $36.54 (Reg $49.99)
LEGO SuperHeroes Iron Man vs. Ultron just $9.99 (Reg $12.99)
LEGO SuperHeroes Carnage's Shield Sky Attack Building Kit just $9.09 (Reg $12.99)
LEGO SuperHeroes Clash of the Heroes just $11.19 (Reg $12.99)
Plus, remember if you have Amazon Prime your order will ship free. Or, if your order is $49 or more, it will ship free too! You can sign up to get Amazon Prime here (It's a FREE 30 day trial), or by signing up for the Amazon Student Program.